We are experts at battling the unseen. Since 1969, we've perfected the filtration processes to neutralize contaminant gases that trigger corrosion on sensitive electronic equipment.
The Problem
During manufacturing, harmful chemical by-products are released into the air. These pollutants create corrosion and irreversible damage to critical electronic components such as integrated circuits, control panels, and pin connectors. Corrosion damage accounts for nearly forty percent of equipment failures in industrial applications.
The Solution
1. CCC (Corrosion Classification Coupon)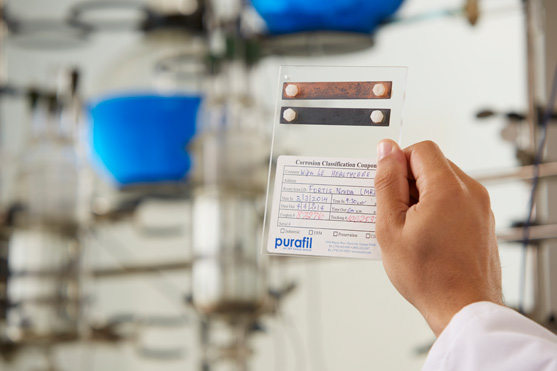 The CCC or Corrosion Classification Coupon reliably determines the type and thickness of corrosion build-up on the surface of each CCC. Coupon analysis is a service provided to customers as a resource for information on their environment.
2. Deep Bed Scrubber for Corrosion Control (DBS)
The DBS is a highly effective, bulk media scrubber for controlled environments with medium-to-high contaminant levels. It is ideal for pulp and paper mills, refineries, steel mills, smelters, chemical plants, petrochemical plants, and other hostile environments.
3. Puracarb
Designed for neutralization of chlorine, hydrogen sulfide and sulfur dioxide, this media is manufactured specifically for the corrosive environments and consists of generally spherical, porous pellets. Composed of carbon, alumina and other binders.